Process Server's Toolbox ™ - The process server software in use by thousands of Process Servers nationwide. Very low startup costs, outstanding value. Enter data one time to track work in progress, produce Affidavits of Service, Invoices, Statements, Server Reports, Receivables and the ever popular much, much more.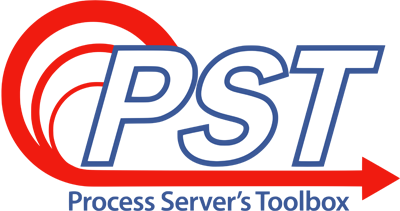 Are you considering automating your process service office work? Moving from a manual or outdated system to an easy to learn, feature rich system like PST? Please take a look at what a few of our customers have to say about the time savings and ease of use that PST has provided for them!
You can download a full-featured copy of PST from this web site and use it to track and process your first hundred jobs (for up to a month). If one hundred jobs isn't enough, just give us a call and we'll set you up with an unlimited number of jobs one month trial. Our famous free tech support is available even during the trial period.
With PST, the paperwork isn't the hardest part of the job anymore!
Now, with Process Server's Toolbox ™, you can do all this and more - quickly and efficiently even if you don't have extensive computer knowledge. From the day you install PST, you'll be able to:
Determine the status of any paper immediately, even while on the phone with the client. Lookups really are that fast.
Notify your Clients automatically via the Web and Automatic Email Notification when the status on their job changes or is finished. With PST's Web Services Pack ℠ (WSP), your customers can have up to the minute status of your work in progress. They can view status on the web or even get automatically generated status and job done emails. Your servers also have the ability to update their jobs from the field and GeoTag their updates (servers can use a web interface or our iPST App for iPhone & Android)! The best news is that you don't have to host a web server, email server or expose your main database to the world. We handle the technical end, you get the credit.
Keep accounts receivable current at all times.
Track unserved papers accurately; no more papers that somehow "slip through the cracks."
Generate forms, including Field Work Sheet, Affidavit, or Return of Service, Invoice, Statement.
Produce reports as needed, including Client Activity, Accounts Receivable, Payroll, and more. Track your servers' pay based upon your criteria.
PST is easy to install, simple to learn and use!
Process Server's Toolbox ™ is designed to be hassle free; virtually all you need to know is how to turn on your computer and insert a disk:
First of all, our techs can walk you through everything with free tech support (the old fashioned kind of free that doesn't make you give up a credit card number first!)
Once installed, drop down menus and windows make entering data a snap.
Data retrieval is equally easy - searches can be done with any information you specify.
PST runs in Windows Vista/7/8/10.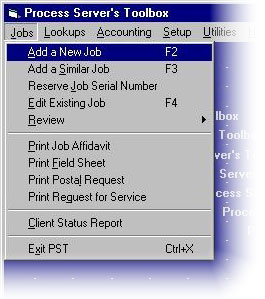 Think of the time saved...not to mention the money!
Process Server's Toolbox ™ gives you control over every area of your business, and yet is cost effective:
PST is licensed on a convenient monthly basis so you don't have any long term contracts. You won't need to buy any special hardware or pay any 'per-seat' or 'per-station' charges.
Once a month, PST prompts you to print an invoice, billing you 30¢ per paper received during the previous month (minimum $30, maximum $100).
Compliance upgrades are free, and can be downloaded from this web site.
Unlimited technical support!
There are no hidden costs. It's really that simple!